Did you know that distracted driving is one of the most common causes of automobile-related deaths in the United States? According to statistics from the NHTSA, in 2014, over 3,000 people died, and more than 400,000 people were injured in automobile accidents involving distracted drivers.
In Nevada, distracted driving is a serious problem. Las Vegas attracts visitors from all across America every day. Many of these travelers are unfamiliar with Nevada's roadways and can quickly become distracted when using smartphone navigation instructions. Moreover, technology has become an increasingly prevalent part of modern daily life. This means that there are more opportunities than ever before for drivers to get distracted behind the wheel.
Distracted driving collisions can cause serious injuries and even death. After all, operating a motor vehicle takes concentration and care. When a lapse in judgment causes an individual's attention to get diverted from the road, the likelihood of an automobile accident increases significantly. This kind of negligence can lead to considerable harm and damage. Below, we will discuss the dangers of distracted driving and the laws regarding this subject in Las Vegas and Nevada.
Victims of Distracted Driving Accidents: Call an Accident Attorney in Las Vegas for Help
If you are the victim of a distracted driving collision in or around Las Vegas, a car accident lawyer in Nevada can help. At Moss Berg, we have skilled Nevada personal injury attorneys who have seen and won cases just like yours. Not only do we have the aptitudes and experience to help you win your case, but our compassionate team will treat you with the care and consideration you deserve.
So, if you've been looking for an accident attorney in Las Vegas, Nevada, or any of the nearby areas, let our team serve you with excellence. Call 702-222-4555, email us or use our free, no-obligation, live chat feature 24/7 to get in touch with a skilled car accident lawyer now.
All About Distracted Driving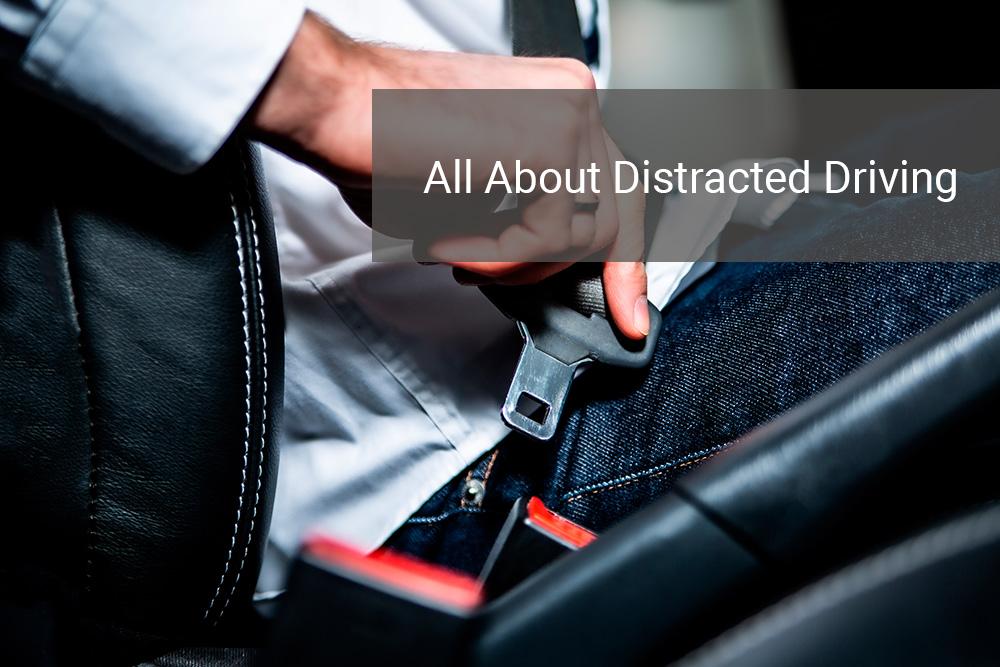 Distracted driving is any activity that diverts the automobile operator's attention away from the road. This can include talking on the phone, texting, eating, drinking, fiddling with the radio, or even using a navigation system. Anything that takes someone's eyes off the road is a form of distracted driving.
Never text and drive.
In the last decade, texting has become one of the most common causes of distracted driving-related automobile accidents in the United States. Did you know that reading or sending a text can take your eyes off the road for up to 10 seconds? At the minimum, reading one text takes approximately four seconds. That means that if you were traveling 55 miles an hour, sending one text would be equivalent to driving the entire length of a football field with your eyes closed.
The fact is that drivers cannot safely operate their vehicles unless they pay complete attention to the road and all driving-related activities around them. When someone is behind the wheel, all of their energy should be devoted to driving safely. Any non-driving activities can quickly become distractions and quickly increase the risks of an automobile accident.
Distracted Driving Laws in Nevada
In the state of Nevada, it is illegal for a driver to talk, send, or receive messages on a cellular device while they are behind the wheel of a moving vehicle. Drivers are also prohibited from searching the internet on smartphones or other handheld wireless devices. Hands-free accessories are permitted, but only when used correctly. It's fine to talk on the phone with an earbud or Bluetooth wireless headset. You can also listen to navigation instructions from a GPS. However, anything that takes your eyes off the road is illegal.
The Risks of Distracted Driving
Distracted driving can increase the risk of a motor vehicle collision by more than 50%. This type of risky roadway behavior may lead to serious injuries or even death. Anything that takes a driver's attention away from the task of operating a vehicle should be avoided. The faster a vehicle is traveling, the more serious injuries are likely to be.
When the driver's attention is no longer on the road, they may miss critical events happening around them. This can include cues from other vehicles, objects on the road, other vehicles nearby trying to merge or pass, and more. For instance, if someone was driving on the interstate and they looked down at their cell phone to read a text, they may not realize that the vehicle in front of them slammed on the brakes to avoid hitting debris up ahead. The distracted driver could then:
Rear-end the vehicle in front of them
Side-swipe cars nearby
Overcorrect and cause their vehicle to roll
Swerve into a median, divider, or other vehicles
Crash in some other way
Avoiding Common Causes of Distracted Driving
Many factors can cause distracted driving. One of the leading causes of distracted driving is cell phone use. However, other distractions can be a problem as well. For instance, pets, children, and other passengers can present distractions to drivers. To stay safer on the road, always be a calm and collected passenger and never demand that a driver take their attention off the road ahead. Ensure all children are buckled into the proper seats before a vehicle moves.
Also, it may be a good idea to bring pets in proper crates or restrain them using pet-friendly car accessories. Finally, do not eat while driving a vehicle. Eating can slow your reaction time, and holding food items or drinks takes your hands off the wheel and prevents you from being able to respond actively to unforeseen events on the road.
A few of the most common distracted driving accident injuries include:
Broken bones and fractures
Neck injuries
Back injuries
Head injuries
Spine injuries
Lacerations and bruises
Permanent disabilities
Staying Safe on the Road
When it comes down to it, distracted driving is an incredibly dangerous and reckless activity. Signs of distracted drivers include swerving, headlights being left off, blinkers being left on, unusual driving patterns, sudden braking, and patterns of obliviousness around other vehicles. If you see a distracted driver, make sure you give them plenty of space so that you and your loved ones are safer on the road! If a distracted driver hits you, it may be wise to contact a skilled automobile accident personal injury attorney in Nevada.
Need a Car Accident Lawyer in Nevada? Contact Moss Berg For Top-Rated Nevada Personal Injury Attorneys
If a negligent, distracted driver injured you, you could be entitled to significant financial compensation. Filing a claim is easier than you might think, especially when you have a car accident lawyer in Nevada on your side. At Moss Berg, injured victims can get help from some of the best Nevada personal injury attorneys in the state. Our top-rated team of legal experts can answer your questions, schedule a free consultation, and help you through every step of your personal injury case. So, if you've been looking for an accident attorney in Las Vegas, look no further than the professional and compassionate team at Moss Berg Injury law.
Are you ready to find out how much your case is worth? You can contact our team during regular business hours by calling 702-222-4555. Or, you can speak with somebody at any time using our website's contact form. In fact, when you visit us online, you can speak to a real live person 24/7 at no obligation. Using our free and easy Live Chat feature, getting in touch with a skilled Nevada injury lawyer has never been easier. Let us help you get your life back, starting now!
Subscribe to our free newsletter.